Welcome
We, the Roman Catholic faith community of Our Lady of the Woods, in communion with ONE, HOLY, CATHOLIC, and APOSTOLIC Church and under the patronage of Mary, are joined together as a people of God. Our mission is to spread the Gospel and bring people into a relationship with God and one another through the celebration of the Sacraments, especially the Holy Eucharist. We live out Christ's mission in the world through evangelization, worship, education, and service to the needy.
Bloom For Catholic Women is the fruit of a recent collaboration between Integrity Restored and Bloom. An online community, Bloom For Catholic Women offers therapeutic and Catholic-based online courses for women healing from the trauma of discovering their husband's sexual and/or pornography addiction.
Available as a subscription or through individual course purchases, the community is a confidential space where women can share, learn, and gain support from other women experiencing similar trauma.
If you are suffering from the trauma of living with or recovering from your husband's pornography use, we invite you to download the free eBook, A Woman Betrayed: Can This Heart Be Healed?

Through this eBook, we hope you will begin to discover that you are not alone and that healing IS possible.
Archbishop Vigneron on Recent News Concerning Clergy Sexual Abuse
Archbishop of Detroit Allen H. Vigneron on Monday released a letter to the faithful, offering prayers for victims of clergy abuse and affirming the need for accountability among clergy. The letter was written in anticipation of the release of a grand jury report on clergy abuse in Pennsylvania and in light of revelations of misconduct by former Cardinal Theodore McCarrick.

"My prayers today are with the victims of abuse at the hands of clergy worldwide, particularly those represented in the grand jury report in Pennsylvania. The allegations contained in that report, as well as recent allegations of sinful behavior involving former Cardinal Theodore McCarrick – regardless of when and where they happened – are daunting tests of faith for you in the Church, her leadership and our ongoing efforts towards abuse prevention and response."

Click here to read the full letter from Archbishop Vigneron.
The Archdiocese of Detroit places no deadlines or time limits on reporting the sexual abuse of minors by priests, deacons, and other personnel. Be it five, fifteen, or 50 years later, our diocese accepts and responds to all reports. To speak to the Victim Assistance Coordinator, please call (866) 343-8055 or email vac@aod.org.
Mass Times
Weekend Masses
Saturday: 4:00 PM
Sunday: 9:00 AM and 11:00 AM

Weekday Masses
Tuesday & Friday: 9:00 AM

Confession/Reconciliation
Saturday 3:00 - 3:30 PM or by individual appointment to be made with the Pastor.

Holy Days of Obligation
See Parish Calendar for Mass times.
Office Hours
Monday - Friday 9:00 AM - 4:00 PM
The parish office will be closed from 12:00-1:00 PM for lunch.
Sign Up for Liturgical Roles
Signing up to be an altar server, lector, or commentator is easy!
Our Lady of the Woods uses Sign Up Genius which is available on your browser (i.e. Chrome, Firefox, IE, Edge, etc) or your mobile device (Andriod or iOS). When you sign up, all you need to enter is your name & email address. Click the role & date(s) that you are signing up for, and you're all set!
---
To sign up to be part of the liturgy, simply click the button below.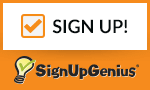 ---
If you're interested in downloading the mobile app, use this button.