Welcome
Our Lady of the Woods is a Roman Catholic church established in 1975 and nestled in the community of Woodhaven, MI on Gudith Road (between West & King).  Follow us on Facebook!  Join us for weekend or weekday Mass & welcome home to your church!
Prepare the Way of the Lord!
Advent Reconciliation Services scheduled in the Downriver Vicariate:
December 13 - St. Joseph (Trenton) at 7:00PM

December 18 - St. Frances Cabrini (Allen Park) at 7:00PM
December 22 - Sacred Heart (Grosse Ile) at 12:00PM
Join us for Christmas Mass!
Monday, December 24 Christmas Eve 4:00PM
Monday, December 24 Shepherd's Mass 10:00PM
Tuesday, December 25 Christmas Day 10:00AM
If you're not traveling this Christmas, share the Part of the Family video with your friends, co-workers, and family members on social media.
If you are traveling this Christmas season, use the Mass Finder to find a Mass near you.
Mass Times
Weekend Masses
Saturday: 4:00 PM
Sunday: 9:00 AM and 11:00 AM

Weekday Masses
Tuesday & Friday: 9:00 AM

Confession/Reconciliation
Saturday 3:00 - 3:30 PM or by individual appointment to be made with the Pastor.

Holy Days of Obligation
See Parish Calendar for Mass times.
Office Hours
Monday - Friday 9:00 AM - 4:00 PM
The parish office will be closed from 12:00-1:00 PM for lunch.
Sign Up for Liturgical Roles
Signing up to be an altar server, lector, or commentator is easy!
Our Lady of the Woods uses Sign Up Genius which is available on your browser (i.e. Chrome, Firefox, IE, Edge, etc) or your mobile device (Andriod or iOS). When you sign up, all you need to enter is your name & email address. Click the role & date(s) that you are signing up for, and you're all set!
---
To sign up to be part of the liturgy, simply click the button below.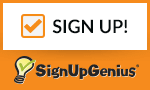 ---
If you're interested in downloading the mobile app, use this button.